Cryptocurrency use in daily life and especially crypto trading sometimes appears to be complex for common users. Starting from the Bitcoin and other cryptocurrencies purchase, a regular individual faces a number of challenges and misunderstandings in terms of user experience (UX) due to the immaturity of consumer-ready cryptocurrency products. The inefficiency of use can be caused by problems in the overall user journey, user interface issues, hidden complexity in the architecture, or even problems in the initial business model. Therefore, it is crucial to build a friendly and thought-through UX/UI design in order to eliminate any issues while trading as well as provide enhanced efficiency and simplicity for common users to meet their goals and needs.
The blockchain technology that started from the inception of a Bitcoin by Satoshi Nakamoto is positioned to be in the top 10 technology trends in 2020. With its rapid growth and adoption, blockchain provides enhanced security and trust in terms of data storage and financial transactions. However, speaking about the cryptocurrency market, trading platforms and applications are pretty complex in use because of inconvenient user interface and difficulty in navigation for new users.
Common UX Challenges Within Cryptocurrency Exchanges
With a big number of crypto exchanges, it is still hard for a common user to grasp the peculiarities of digital currency trade. There rarely is a description of cryptocurrency differences specifying their nature (token, a medium of exchange, or the store of value) as well as the specification of functionality over the others. Prices differ from platform to platform, the exchange rate and transaction fees aren't always clear posing a risk of overspending while trade, and, of course, not all the cryptocurrencies can be purchased in one place. Finally, the lack of basic information while onboarding frustrates the user's experience that can result in leaving the exchange.
According to Statista, only 9% of traders are satisfied with the exchanges they use. The lack of customer support takes the fourth place among the biggest problems faced by traders. Hence, any misunderstanding and lack of information cause frustration while the customer journey. In addition, an inconvenient user interface is also among prior challenges for users. The research shows that 21% of respondents find UI problematic and here we aren't even speaking about the new users' experience.
Image 1. The biggest problems that crypto-traders see in currently available exchanges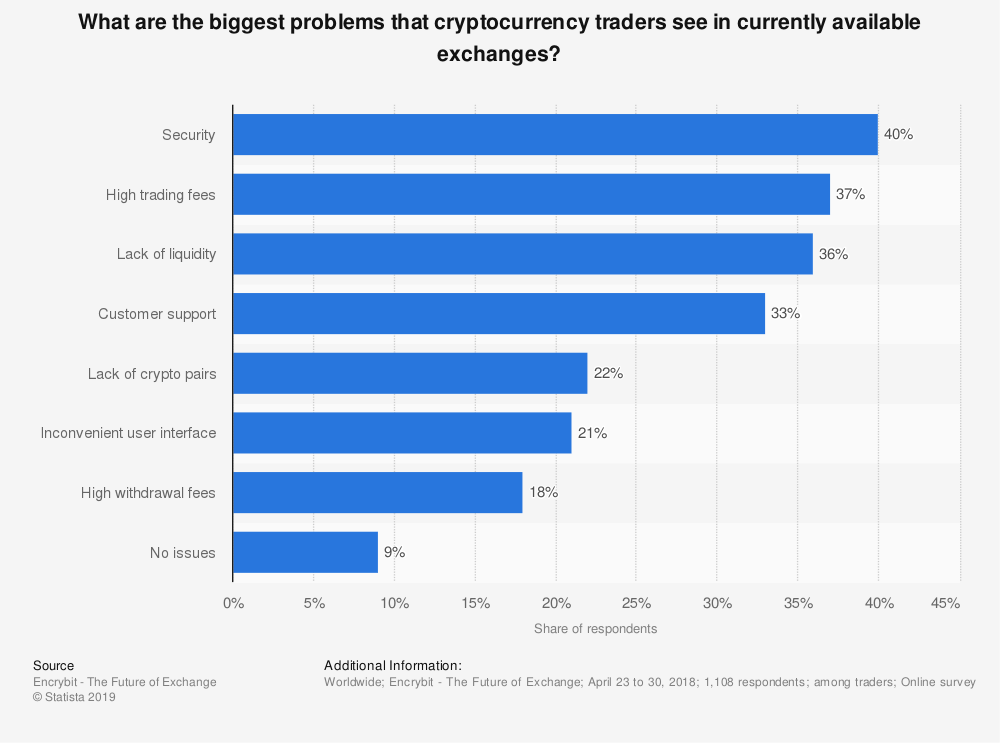 ​
According to the CoinMarketCap, there currently are 22,749 markets to trade cryptocurrencies with approximately 314 available exchanges the UI of which is rarely decent except for Gemini or Coinbase, for instance.
Problems in UX design and user interface usually range from:
error messages,
to complicated information formats,
to obscure financial statements
to lack of onboarding or feedback
The major problematic areas of using cryptocurrency product or service platforms concern onboarding, transactions, and storage, though.
Even if a user figures out how to pass the KYC (know your customer) procedure and successfully registers on the exchange (which can actually take longer than a day), most likely he'll face complexities in how exactly to purchase a digital asset or a cryptocurrency and how to further use it. A fewer number of existing exchanges provide good onboarding and explanation, however, these few are easier in use and are more successful.
Transaction processing is another aspect that has to be well-explained. There should be a tutorial on wallet use, specifications on how to use private and public keys, and what they stand for. It is important for a newbie to understand that not all the crypto can be purchased with fiat (regular USD or EUR) and that many transactions require ETH (Ether) to be in the wallet to pay transaction fees.
Speaking about storage, this is a completely different challenge. Cryptocurrencies should be stored offline, in cold, desktop, or paper wallets, meaning just not online. This is more efficient in terms of security, however, mostly, users just keep their crypto in exchanges which increases the risk of theft or loss. Hence, a precise explanation, description of possible storage options, as well as tutorials should be provided within the chosen exchange for the user's safety and ease of navigation.
Designing Comprehensive UX/UI for Crypto Trading
The term user experience combines the basics of the research-based design, functionality, and comprehensive customer journeys. According to Don Norman, design acts to be a means of communication where the understanding of a person and a product both matter. Let's take a look at the basic concepts that should be taken into consideration while designing an efficient and friendly user experience design for exchanges.
Research-Based Approach
Artkai always conducts a thorough market validation and user research to build a seamless and comprehensive user experience. As an initial stage of the product discovery, it is highly important to evaluate the market and its existing propositions, conduct competitive analysis, and define current problems and challenges to propose the best-matching solutions in terms of unique functionality.
User research is the most significant part of such a discovery, especially when we're speaking about the cryptocurrency trade. In terms of this, a team of UI/UX specialists conducts business analysis and market research to define the target audience and their goals. It is important to understand the target customer in terms of:
basic background in the cryptocurrency market
knowledge and experience in trading
main goals and needs
current fears and challenges
preferences
Surveys, interviews, and workshops work best for such purposes. One of the possible scenarios is to conduct working sessions with 5-10 participants who have certain experience with trading. The comparison of product functionality and usability journeys with competitor offerings can grant better feedback and understanding of value and user expectations.
Friendly Platform Navigation
Design is the process of building not only the visual product representation but also a seamless user journey throughout the offering. As mentioned above, users often face challenges with exchange navigation and understanding of the overall functionality. Ease of use is one of the core principles that should go hand in hand with the product's value.
When creating the exchange's interaction design, user journey, and interface layout, it is important to adhere to usability principles:
how seamlessly users can interact with this exchange
its visual design comprehension
functional, frictionless features
well-put informative onboarding and explanations
The lack of onboarding, customer support, and poor information architecture can make navigation complex and hard to follow. Hence, taking into consideration the above-mentioned can help to build an informative and simple product design in terms of functionality and value.
Prototyping and MVP development can be implemented to test how well an exchange can satisfy users' needs as well as get feedback on what should be changed or improved for better navigation.
Functionality
A good UX should be built on user-centered design to satisfy the end-user needs and commonly-faced problems. Being applied to the cryptocurrency exchange, it is important to provide enhanced functionality and unique features that are valuable for traders and make their activity as easy and complete as possible.
Considering that users get lost with what currencies they can purchase and under which conditions, whether they have to possess crypto or fiat is enough to start trading, or confuse with various prices that don't always match in various exchanges, it is crucial to provide a solution that simplifies the trading activity.
Of course, each exchange has a different focus and offers unique features, however, some would be really in demand for users, for instance:
support of fiat, stablecoins, and most popular cryptocurrencies
multi-functional wallets with friendly navigation
sorting and filtering orders by price and date
price comparison of various currencies across platforms
fees calculator
visual aids and informative explanations for complex financial statements
customer support
tutorials on the wallets' use and keys management
Again, functional features differ from exchange to exchange. Hence, testing and evaluation of the proposed solution come really helpful.
Artkai has worked with a number of blockchain-related projects, and we will be happy to assist you with UX/UI design, branding, or development. Don't hesitate to contact us in case any questions occur!
Conclusion
Currently, the cryptocurrency space proposes solutions with pretty high barriers for easy adoption. The reason primarily lies in poor UX and complex UI experiences. Designing comprehensive user journeys taking into account research data, ease of navigation and functionality can increase the exchange's success making it a functional and valuable product for everyone in the market.
Got an idea?
Share whatever is on your plate so we can work it out together