In 2021, customers predominantly interact with businesses via digital channels. It makes the digital user experience (UX) with products or services the defining aspect of the overall customer experience (CX). While you always need to keep an eye on other CX metrics, what should be on the top of your mind is delivering a holistic first-class online experience. Having multiple successful UX optimization cases across industries Artkai wants to share with you the customer experience optimization strategies that will help your business not just survive, but thrive in the digital-first world.
Table of contents:
The New Era of Customer Expectations
There is no news that the disruptions of 2020 have tangibly changed customer behavior, making it highly digital-oriented. There is virtually no industry or business model this digital acceleration hasn't influenced, more or less. But to make this well-known statement sound less "sensational," we must address the fact that even before the infamous pandemic, things have been moving in this direction for quite a while. And by "things," we mean customer expectations from their online interaction with businesses.
In the Gartner survey of 2018, around 80% of surveyed companies assumed that the main competition would circle around the customer experience. Which, again, is not a surprise. What's more interesting is that even in 2018, the main aspects of the CX addressed by most CX guides already predominantly consisted of the UX elements like frictionless, speed, and consistency. Human-centric UX design, in other words.
Since 2018, the importance of excellence in UX has escalated tremendously across all types of businesses. According to the HBR survey of 2020, 64% of the respondents report an increase in active users of their digital products, and 63% report an increase in new user growth.
But this growth in customers' enthusiasm to use more online products has also led to an extremely low tolerance to even minor inconveniences during the interaction. Inability to quickly navigate through the interface, difficulties with signing in, or failing to customize the filter will drive customers away in a blink of an eye.
This means that digital technology is not just one of your sales channels anymore - it is the foundation of a new digital-first business model in automotive, finance & banking services, media, retail, and even energy sectors. If you are on a path to not only keep your business afloat during the turbulent times but also to thrive and generate value from this digital acceleration, giving your customers a top-notch product experience is key.
Before you say it, we don't diminish the importance of other aspects of the great customer experience. There are plenty of impactful non-UX-related ingredients that fuel customer loyalty: high-quality products or services, quality of customer service and support, packaging, delivery, and so on. But if your website or app leaves clients frustrated and isn't on par with your competition, people may not even give your business a chance.
Customer Experience Optimization by Improving UX
UX is as much, if not more about human behavioral psychology and empathy than the CX. Human-centric UX makes you money by saving the user's time and nerves.
Here are the four UX design areas that you should focus on during your customer experience optimization campaign:
Usability (navigation, speed, discoverability, UI standards)
Consistency (UI design, interaction design)
Workflow (user flow, interaction design, efficiency)
Brand perception (quality, trust, confidence)
Let's see why improving them should be the main focus of your customer experience optimization campaign and how to do that.
1. Usability
Wandering around a website or application's interface attempting to understand how everything works is not what the user came for. Getting things done is. The product's information architecture and navigation must speak the user's language and be intuitive and frictionless.
What happens when the user has a hard time finding where things are on your website and how they work? In the worst-case scenario, they leave the website irritated to search for an alternative that doesn't make them play the guessing game. If they are still interested in your company, they can contact the support center to seek help. If happens often, it can overload the contact center with calls about the website, which will spill in additional overheads. In our ProCredit Georgia case, our client came to us with this as one of the main problems that came from the bad UX.

2. Consistency

While the usability is about "where can I find this?", the consistency is about "how can I do this?". Consistency is about your website or app's style homogeneity: the colors, the fonts, the similarity of the layout. The less stylistically homogeneous the digital product looks, the more confused and more mentally strained the user will be when wondering about its pages. Plus, it just looks bad.

A consistent digital product interface looks predictable yet not to the point when it's lazy and boring - it just has the same rules across all the pages. This familiarity drastically reduces the tension and confusion. It is crucial that similar tasks can be achieved by doing the same things, and where the elements needed for this task look correspondingly. When a user lands on the home page, all other pages he visits should reflect the same design.

It often becomes a problem for multiple times restructured websites which user interface (UI) is a mixture of a few UIs to come to one stylistic determinator. Obviously, it negatively influences the user perception of the products or services this website/app provides.

3. Brand Perception

A study on human-computer interaction revealed that people form their aesthetic impression of a webpage within the first 17-50 milliseconds. To make it more clear, the eye blinks in 300-400 milliseconds. Thereafter, your website will literally be judged faster than you can blink.

Why is that so important for a customer experience? The website or app, in most cases, will be the first interaction the user has with your brand. At this point, the website IS your product in the user's eyes. If they see an aesthetically unappealing or simply outdated-looking website, they will instantly associate this with your offer.

An excellent human-centric UX/UI design always does one thing - it improves the brand experience and increases trustworthiness. And it does this all in the first milliseconds and throughout the whole digital interaction.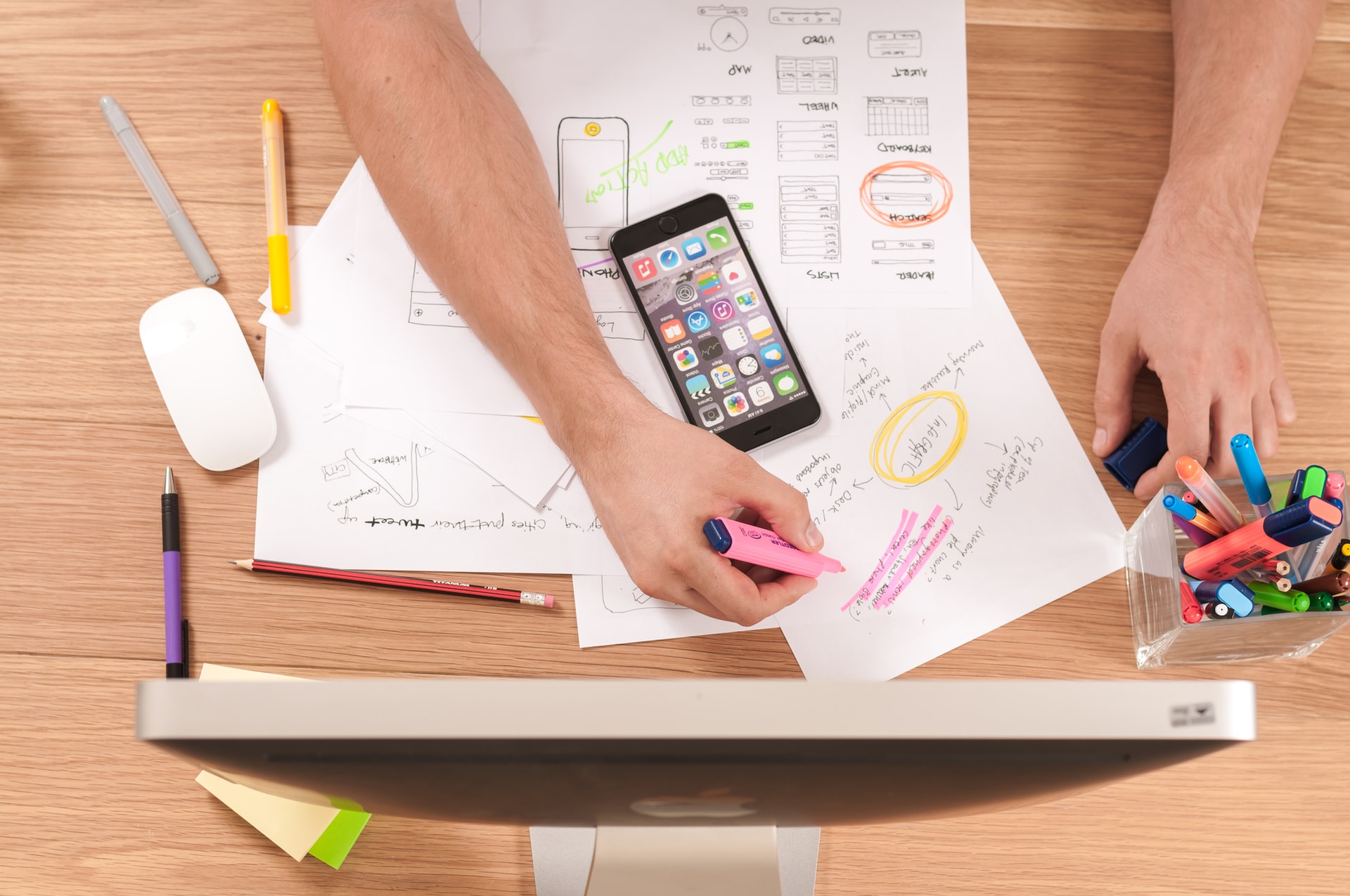 User Experience Optimization Flow
Optimizing digital assets is a multi-aspect task that requires deep analysis of the business, industry, customers, and competition. To get the job done, businesses often seek the help of a customer experience consultant in the face of a digital agency. In artkai, the optimization process usually looks the following way regardless of whether we create a new product from scratch or optimize the existing one to increase its performance.

1. Research and Analysis
In order to be human-centric, the design and any other optimizations should be data-driven. Research-based design is the process of investigation and data analysis during a project discovery phase that helps to understand the target audience, market, and competitive insights to ensure elegant, informative, and simple user interaction with a website.
To conduct a productive discovery, business analysts, UX researchers, and designers investigate the current market state, its potential, and opportunities along with existent problems to offer functional and useful solutions satisfying business and customer needs. Business analysis and research consists of the following activities:
During this stage, a team of professionals starts by deep-diving into a specific domain to analyze industry insights along with its latest market trends. Such information helps to understand whether the product or service is in demand, what's driving the market, and what the current industry problems are.
When the market state is analyzed, it is crucial to define the target customer and analyze his/her needs, goals, and behavior. As UX focuses on the efficiency of a friendly user journey, the creation of the customer persona is an integral part of the research.

To gather customer data, we usually conduct:

User interviews

Surveys
Focus groups
Switch and generative interviews
Field studies
Analyzing industry competition is another significant part of the whole discovery process. Before redesigning the product, besides market drivers, the competitor landscape should be analyzed. The project's concept should be compared with those already existing. In terms of this approach, according to Porter's Five Forces Framework, business analysts and researchers can analyze the external business environment:

Potential entrants (threats of new offerings)

Substitutes (threats of existing products satisfying the same needs)
Buyers (research of buyers' bargaining power)
Suppliers (research of buyers' bargaining of suppliers)
2. Design and Prototyping

The design phase follows the information gathering. This is an important process used to build information architecture and design the wireframe illustration of a solution. Prototyping serves to be a clickable version of the solution used to show how this solution will function and how the user will interact with it. Bugs or issue resolution also happens during this stage.

3. Validation
The validation stage is the final one aimed to ensure that all goals and intentions are met to provide the best results. Comparing the two techniques, we see that although they are absolutely different, they aim to meet and satisfy common needs. The conversion rate is highly important, however, it cannot be optimized efficiently without a friendly and intuitive user journey. Whereas optimization plays a greater role in revenue growth, it won't be possible, unless the user feels comfortable and experiences seamless page navigation.
CX Optimization via UX: Case Study
It may be not easy to find real-life CX optimization examples of B2B projects. Below you can see a few examples of Artkai's redesign and experience improvement for businesses across the world.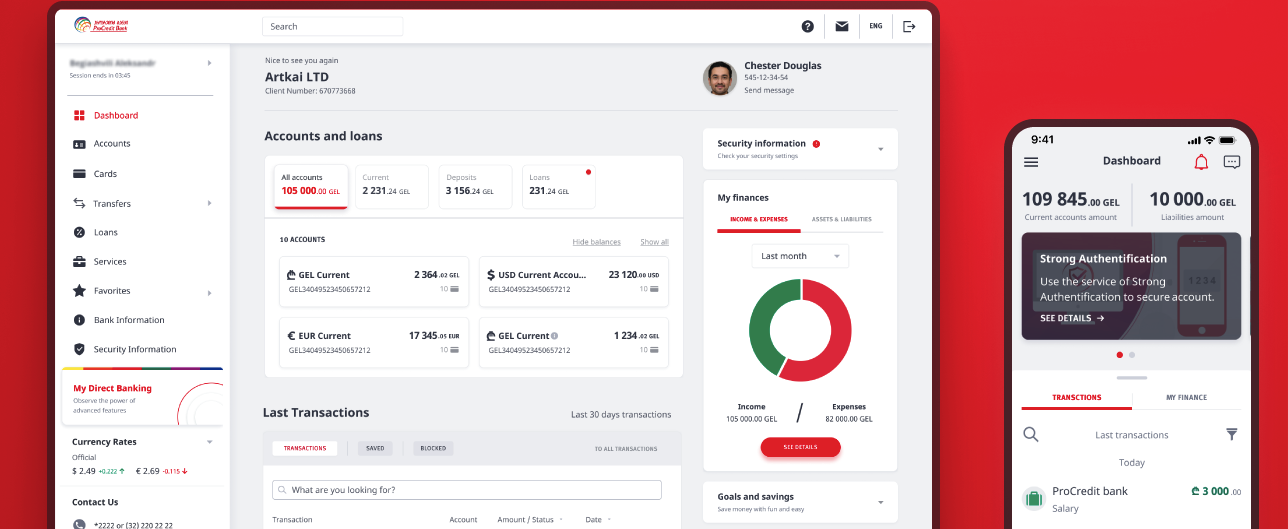 ProCredit came to Artkai to redesign the user experience across its digital system - to web applications, mobile applications, online services, websites, ATMs, and marketing materials. The goal was to enhance loyalty from their existing clients and to help attract new customers. Bank's customers didn't seem to be satisfied with ProCredit's internet banking services, which resulted in negative customer reviews and the overwhelming workload of the call center.
Here are the results of our redesign:

99% of available banking services were digitized and can now be performed fully online;

x1,5 faster to make a transfer via web or mobile banking;
x2 faster login compared to the previous version;
+60% faster to block a card via mobile application;
Significant increase of positive feedback about the bank services.
Conclusion

The key to business success in the digital-first world is predicting and satisfying customer expectations and reducing friction between the customer and your digital product. Today, most successful companies are using user-centric design to differentiate their products, services, and customer experiences. This is as true in the B2B space as it is in B2C. To gain the upper hand in your business via excellent customer experience, reach out to us, and let's talk about how we can help you!
Got an idea?
Share whatever is on your plate so we can work it out together