During the last year, around 26 000 fintech startups were launched worldwide, making it one of the most competitive fields in the world. Most of them, however, are doomed to failure within the first couple of years. To get into the ranks of the successful minority, you must be able to avoid problems that kill 90% of startups. In this article, we discuss common and fintech-specific issues that put your product in jeopardy and how to prevent or fix them.

Table of contents:
Four key factors contributing to the success of FinTech
According to a Deloitte report, there are four key factors that guarantee the success of FinTech products: talent, capital, demand, and policy and regulation.
​Image source - Deloitte report​
Talent is the ability to attract, develop and retain talent in three key domains: finance, technology, and entrepreneurship. This factor is, potentially the most important because specialists in these three areas can assess demand, influence capital investments, and successfully navigate the regulatory landscape.
Capital is relatively self-explanatory. According to Statista, the total value of investments in fintech companies worldwide increased dramatically between 2010 and 2021, reaching $121.5 billion USD.
While there is a strong correlation between the percentage of successful FinTech products and the higher concentration of VC investments in a certain area, it's not the capital that guarantees product success but its efficient allocation.
Demand drives every industry, including FinTech. It is much harder to promote something different and innovative than to present an answer to a well-formed public need. A well-established industry equals a more heated market for your product and, therefore, more public attention and investments.
Policy and regulation are key factors contributing to a FinTech product's success. Proper navigation of this field can shield your product from penalties and even enable faster growth.
Sometimes, the ability to handle legal and regulatory issues can be seen in design details related to nuances of language. For example, on its website, Revolut never calls itself a bank, using a more general description and euphemisms like "financial technology company that offers banking services" "one app for all things money."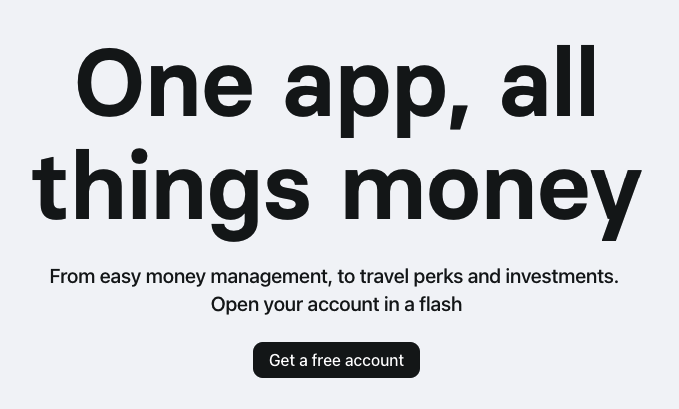 Revolut's homepage
Having gaps even in one area may lead to problems in FinTech products that slow down or completely stop their growth, sometimes resulting in a full product collapse. This is why stakeholders must understand the potential risks and prevent them from ensuring steady product growth.
Common problems in FinTech products & How to solve/prevent them

The factors that may slow your product growth can be divided into four categories: general startup problems, FinTech-specific problems, general user experience (UX) problems, and FinTech-specific user experience (UX) problems.
General startup problems
1. Lack of product & market fit and market validation which, according to Statista, is the reason why 42% of startups fail.
2. Latent project risks, uncertainties, missing functionalities, and potential difficulties during implementation.
3. Solution architecture that isn't integrable with a variety of third-party systems and environments.
4. Technology stack that isn't suited for scaling and growing.
5. Misjudged scope of work that results in delayed product release.
6. Lack of financing.
FinTech-specific product problems
1. Difficulties in complying with constantly-changing industry regulations and navigating regulatory roadblocks;
2. Difficulties in competing with big FinTech players like PayPal, Goldman Sachs, and other technology companies with immense resources like Amazon expanding into financial services;
2. Inability to address data privacy protection and cybersecurity risks.
General user experience problems
These problems are common for companies that invest all their money in development and marketing while neglecting UX/UI design. Many startups have a team of over 100 people with only one in-house or outsourced UX designer. This inevitably results in major UX slip-ups like:
1. Usability problems: poor navigation, confusing user interface (UI) elements, lack of contextual information.
2. Inconsistent design and functionality patterns that change from page to page and confuse users. These problems can appear on the website, within the product/application, or both.
3. Broken user flow.
4. Lack of product personality (brand identity) that is not consistent across all areas: design (colors, logotype, and typeface); microcopy, emoji, mascots, illustrations; the single tone of voice.
Check out a brand identity selection for FinTech by Artkai.
FinTech-specific user experience problems
These problems usually result from a lack of in-depth UX/UI research and the failure to conduct a product audit by UX professionals.
1. Lack of personalization - AI/ML-powered advising system with personalized propositions for customers.
2. Complicated and lengthy onboarding process that results in low conversions. Onboarding problems in FinTech are very specific and stem from the inability to navigate regulations like know your customer (KYC) and anti-money laundering (AML) in a customer-centric manner.
3. Unclear financial terminology, lack of compassionate human language, and simple explanations of complicated financial processes.
4. Lack of transparency about the company's terms and conditions, service fees, etc. This lack of transparency and proactive explanation is widespread in blockchain businesses, breeding distrust among users.
Important to remember: problems in one category inevitably affect other categories. Take, for example, the inability to integrate with third-party systems because of a poorly-chosen technology stack. It is a typical technical problem for many startups, but it will affect the user experience if you reveal that your users want to use other services within your offering.
How to prevent/solve these problems and create a thriving FinTech product
The problems mentioned above come from a lack of strategic investment in expert product research, business analysis, testing, development, and design in the early stages. As a result, most small-to-medium companies miss out on crucial industry-specific insights and make costly mistakes.
The best solution is to outsource product strategy, design, and development to professionals with expertise in the FinTech domain. Involving domain experts allows you to create a product free of the typical problems that sink many FinTech businesses.
In Artkai, we have built 50+ successful FinTech products that raised millions in funding and received recognition from Apple, Y-Combinator, and Forbes. We did this by providing consulting, design, and end-to-end services based on a research-based approach.
Need help building a new FinTech product or improving your existing product for better growth and conversions? Book a call with Artkai experts to discuss your business case.
Successful FinTech product cases by Artkai

Here are some examples of how Artkai helped FinTechs solve problems and increase their customer acquisition and product growth.
Building a user-friendly investment platform for real estate
Summary
Our client wanted to open the world of real estate crowdfunding to the underdeveloped and strictly regulated German market. The idea was to simplify real estate financing for investors and developers through state-of-the-art technology. We have built a trustworthy, easy-to-use, and stylish web-based platform from scratch by combining our digital know-how with the client's extensive experience in the real estate industry.
Challenges
The project objective was to build a platform combining the successful concept of swarm financing with technology and attractive investment opportunities to make real estate investing accessible, simple, transparent, and affordable.
Deliverables
Web-based platform

Marketing website

Brand Identity
Solutions:
1. Easy registration where users can quickly pass through the German market identification process and become a few steps closer to their dream home.
2. Overview of investment deals to track actual distributions and compare these with the forecasted return expectations.
3. Instant access to a personal dashboard where users get to review all the essential information about investment deals as well as track actual distributions and monitor their progress online.
4. Visual design where all components work smoothly to allow users to stay focused on the content.
Outcome
Through joint efforts, we have built a one-of-a-kind digital platform with usability being the main selling point of the brand. The product makes global real estate investments highly accessible, simple and transparent with no extra fees. Most importantly, the product turned out to be a great help to users, as it simplifies a complex and stressful process.
For more illustrations and details on how we handled the challenge, check out the iFunded case study.
Onboarding redesign for a payments ecosystem: DNA Payments Group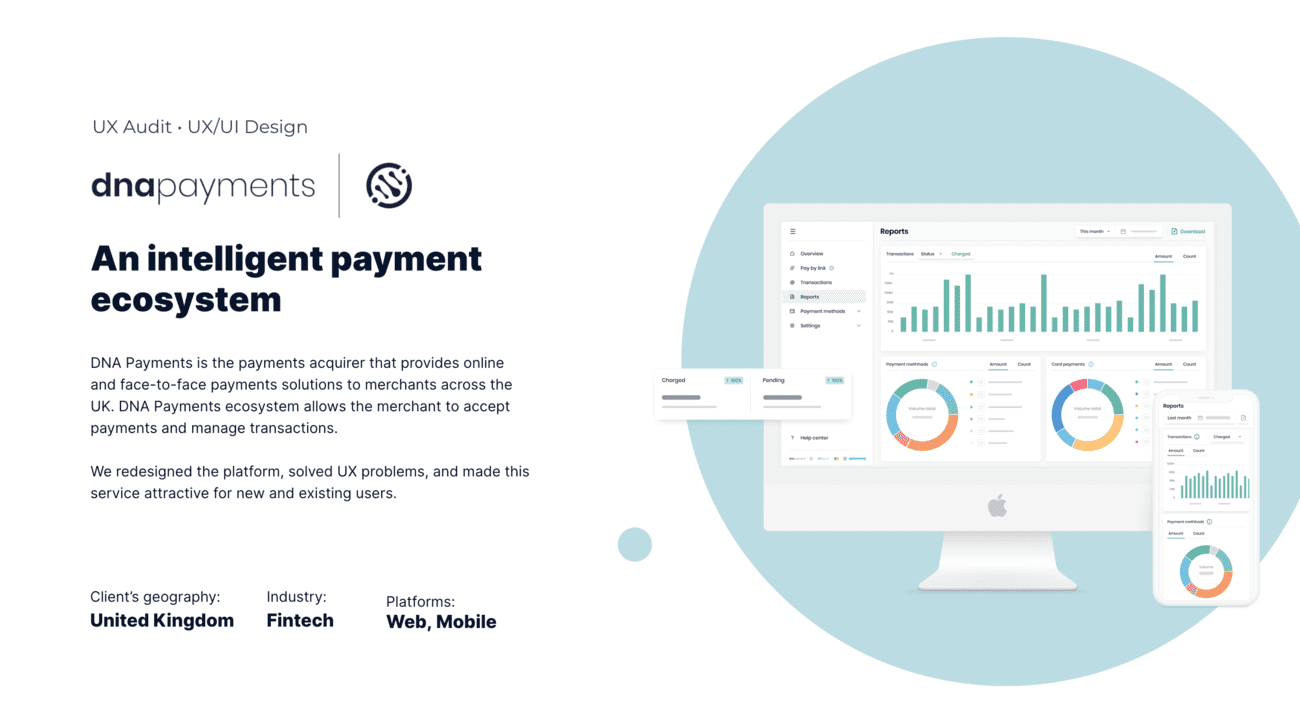 About
DNA Payments Group, a UK-based payments provider, is an evolving intelligent payment ecosystem. DNA Payments helps businesses run more efficiently, from card readers to integrated payment solutions.
Already working with over 50,000 businesses all over the UK, DNA Payments unites five companies and is perfectly positioned to enable businesses of any size to accept payments online, in-store, or on the go.
To unlock the potential of integrating all five companies, DNA Payments approached Artkai to develop a single, unified design system, flexible and user-friendly UI/UX kit, and a core front-end experience.
Challenges
Onboarding was complicated and took a couple of days to complete, poorly affecting customer acquisition and the overall conversion rate, especially compared to their competitors.

As the company has several brands, it was essential to engineer an easy and consistent onboarding experience that could be used in all their products. We needed to show that we understand the product and its customers and find actionable solutions that will secure our work for the next phases.
Approach
We conducted an Artkai Product Discovery Session™, together with DNA Payments, to establish a stellar UX delivery roadmap. We identified the need to rebuild the core experience for delightful onboarding and to follow the DNA Payments platform redesign.
Onboarding redesign
The previous onboarding process was too complicated and time-consuming for users. As a result, registration was difficult, and many users dropped out. Our goal was to redesign the onboarding process and make the process quick, easy, and clear for the users of desktop and mobile devices.
Platform redesign
The product interface was confusing. The users had challenges finding necessary items and working with data tables and filters.
This is how Artkai fixed these problems:
We split two similar entities - Payment links and Transactions - into different sections

We redesigned search functionality

We simplified access to information and sped up the whole onboarding process by reducing bureaucracy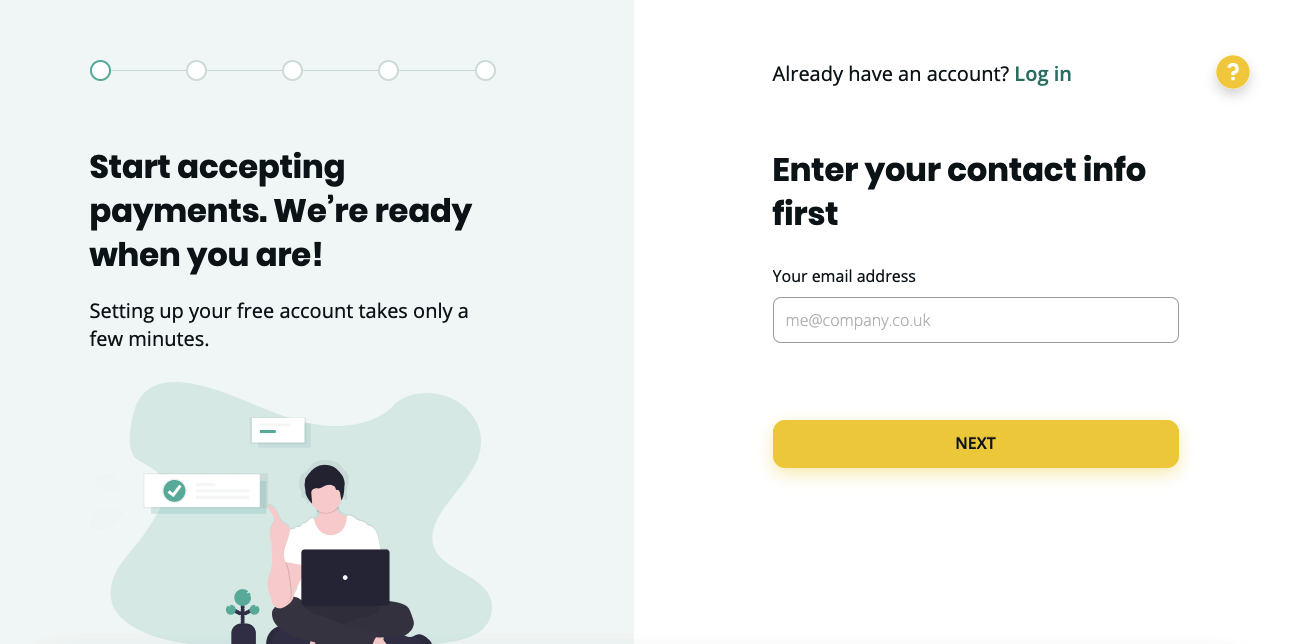 New onboarding design for DNA payments
You can find more details about onboarding challenges in FinTech and our onboarding redesign for DNA payments in this article.
Useful links:
Artkai consultancy session™ for FinTech
​
Got an idea?
Share whatever is on your plate so we can work it out together